Die Gitarre an und für sich ist ja schon mal eine tolle Sache. Wenn dann aber die Rolling Stones auf der Duesi unterschreiben, scheint das dem Wert nicht zu schaden. Der Erlös der Auktion ging natürlich nicht in die Band-Kasse der Stones sondern wurde "Angels at Risk" gespendet.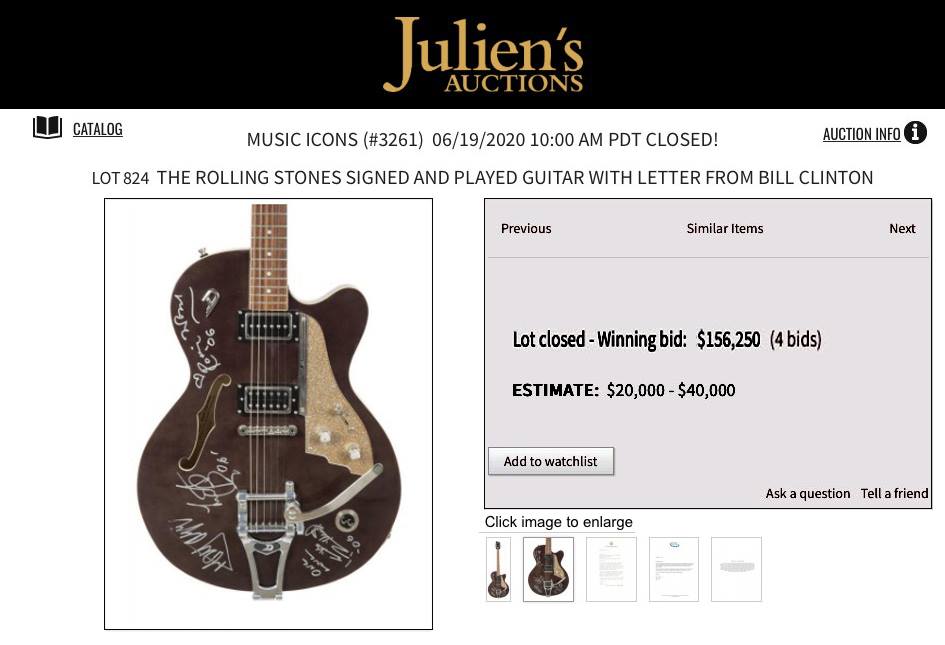 Hier der Originaltext der Auktion:
A black Duesenberg Carl Carlton guitar with metallic gold pickguard signed in silver marker by The Rolling Stones members Mick Jagger, Keith Richards, Ronnie Wood, and Charlie Watts. Richards has additionally inscribed "One Love" and dated " '06," and both Watts and Wood have also dated their signatures " '06." Serial number 010988.
Accompanied by a typed, signed letter from Ex-President Bill Clinton on his official stationery to Jena King, of The Jena & Michael King Foundation, stating that he is grateful that the guitar autographed by The Rolling Stones and won at the Clinton Foundation Gala held in honor of his 60th birthday in 2006 would be benefiting Angels at Risk; a typed, signed letter from Kevin Thurm, CEO of Clinton Foundation, stating that the guitar was hand signed by all four members of the Rolling Stones and played by Richards; and a hardshell case.
Proceeds from the sale of this guitar will benefit Angels at Risk. Their mission statement is as follows: As a community, the issue of drug and alcohol abuse in kids, teenagers, and families is an epidemic crisis. We know that early education, prevention, and intervention can change families' futures forever. Our mission is to raise this awareness. Our Angels at Risk educational programs and services are designed to encourage communication on a parent to parent, teen to teen, and parent to teen level. Our wish is to believe that we can make a shift in the paradigm of mental health by adding prevention education under social and emotional learning in all schools, both public and private. Kids and their families from every platform would have a chance to have a happier, healthier life in this country, in our community, and in their homes.